I once read an article about Justin Bieber's faith.
"I'm a Christian, I believe in God, I believe that Jesus died on a cross for my sins," Bieber toldBillboard in November 2010, while promoting his autobiography. "I believe that I have a relationship and I'm able to talk to him and really, he's the reason I'm here, so I definitely have to remember that. As soon as I start forgetting, I've got to click back and be like, you know, this is why I'm here."
Now that sounds really nice, but considering his moral breakdowns this year, this statement he made in 2010 can seem very surprising. Bieber (or, "Bizzle" as he might now prefer to be called) was arrested for drag racing, drunk driving, and resisting arrest. There are also stories of him beating people up, going to strip clubs, and more.
But if you read the rest of his interview with Billboard, I believe we will find a key to his failures:
"They go to church just to go to church. I'm not trying to disrespect them. But for me, I focus more on praying and talking to Him. I don't have to go to church."
I understand what Bieber means about people who "go to church just to go to church." I grew up in the Bible belt, which meant I knew hundreds of people who went to church, even if a relationship with God meant nothing to them.
Bieber does get one thing right, Christianity is about a personal relationship with God and not religious rituals. Prayer is essential for any christian, but by avoiding the church, he misses a huge blessing and sets himself up for a colossal fall.
You see, the church is not a building you visit on Sundays. The church is the people of God, and we need them.
I've heard this analogy before, and perhaps you have too: I love building fires (perhaps that is part of my genetic code as a male). Anyone who has spent much time around fire knows that burning wood will continue burning best when it remains with the rest of the burning wood.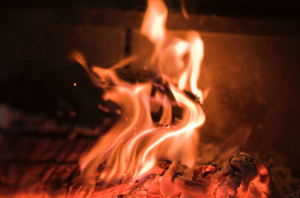 If you pushed a log away from the rest of the fire, that piece of wood would quickly die out. Most christians today have sung or prayed that God would "light the fire in my heart." We want to love Him passionately, but if we live in isolation from the church, we make our job incredibly difficult.
Christianity is not a solo act. If you want to #LiveFully, you need to live in community with other believers. We need the encouragement, the accountability, and the passion of other people inspiring us to seek the Lord even more.
The church is messy – it's full of broken people who sin on a regular basis. But God loves the church. He protects it, "the gates of hell shall not prevail against it." The church is the bride of Christ, and if we hope to love God, then we must also love His bride.
#LiveFully.
Photo by KellyReeves